A new cycle is beginning. Join us for a weekend of ceremony and retreat to honor and release our past and welcome the new.
Registration closes Friday, October 4th at midnight.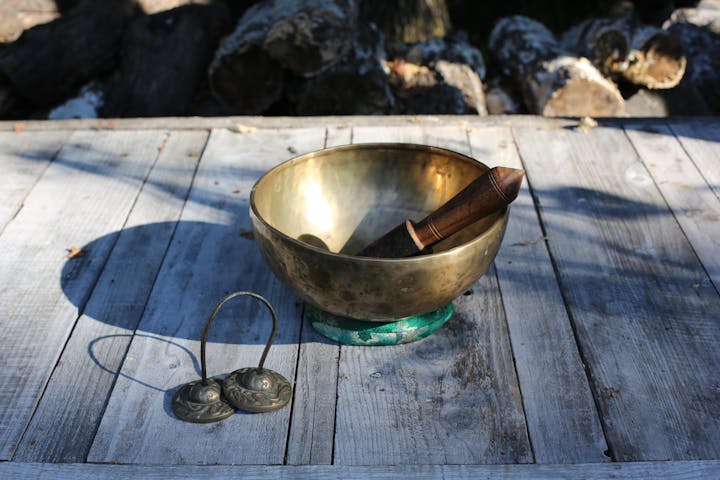 Inner Sanctuary presents a live immersive weekend event:
Gathering Gold – A Full Moon Ceremony and Weekend Retreat
Date: October 11 – 13, 2019
Location:

We'll convene at a beautiful private residence in Alamo, CA (SF Bay Area). Space is very limited, so if you feel called to join us, please jump in today.
---
Join us for a weekend of ceremony and retreat to honor and release your past and welcome the new.
The weekend will commence with a vegan harvest dinner and setting powerful intentions for the weekend. We'll look at what the last cycle has held for us and journey within to uncover our deepest learnings and yearnings.
We'll partner with our nature and ancestor allies to uncover our own deepest wisdom. Each step of the way we'll have support from herbs and essential oils targeted to bring us back to home, back to center, where we'll embrace self-compassion and self-acceptance.
We'll close the retreat with a Full Moon ceremony on Sunday to release the past and call in the new.
Be prepared for light movement, meditation, and group energy healing/activation. We'll be outside as much as nature comfortably permits.
Coffee, tea, snacks and targeted herbal infusions will be provided daily, along with a sumptuous, candle-lit, gluten-free vegan dinner on Friday evening.
---
What to expect:
A sumptuous vegan, gluten-free harvest meal on Friday evening

Meditation and time for reflection

Energy activation to call in what we want for the coming cycle

A Full Moon fire ceremony to close the weekend

Herbs and essential oils to support release and manifestation

Healing via sound, community, herbs, and love

Embodied self-acceptance and self-compassion

Readiness to embrace what comes next
Early Bird tickets are available! Decide now that you are ready to release the past and step bravely into the coming year and decade. Use code EARLYBIRDGOLD to book your discounted ticket.

After the September 13 Full Moon, the price goes up to $500 per person.
Your future is beckoning, will you heed the call?
This retreat is open to all who are willing to enter and hold safe and sacred space.
A payment plan is available, email Anné using the CONTACT form here. Are you a Flourish by Design Program Alum? You get 25% off all retreats! Reach out to me for your discount code. <3
Not sure if this event is right for you and you want to learn more? Jump on a quick phone call with me. Select Discovery! and make an appointment that works for you.

Why come to Gathering Gold?
Are you in transition? Ready to embrace a new direction, a new way of being in the world, or to release old patterns (or ways of thinking) that hold you back?
Do you want to honor all that has come before, including your ancestors, at this beautiful time of year?
Do you want a clean slate, to start anew?
Do you want to commune with a group of women and men who are heart-centered and similarly focused as you?
Are you ready to heal from the wounds of the past?
Do you want to learn to embody grace and mercy, and lay the foundation for creating magic in your life in the coming season?
Do you want to dance with your senses and enjoy the flavors and scents of harvest and spiritual renewal? You're open to being supported by herbs to facilitate shifts in your life, and you want to activate your energy centers to embrace a new future.
This weekend retreat is for you if you are an open, heart-centered woman or man who doesn't want to repeat the effects of this year. You're ready for change, for growth, for a new perspective, a new adventure.
Weekend Timeline (times are approximate):
Friday, October 11, 2019
6pm – 9:30pm
(Dinner and herbal tea will be provided)
Saturday, October 12, 2019
10am – 5:30pm
(Bring Your Own Lunch, snacks and tea will be provided)
Sunday, October 13, 2019
10am – 4pm
(Bring Your Own Lunch, snacks and tea will be provided)
---
Weekend Accommodations
As we are meeting at a private residence, if you are traveling from a distance, you will have to find lodging nearby. Look for rentals on vrbo.com or airbnb.com near Alamo, California. Hotels can be found in nearby Walnut Creek or Danville. If you'd like to make a weekend nature retreat complete, consider camping under the full moon (with incredible views!) at Mt. Diablo.
The nearest airports are Oakland (OAK), San Francisco (SFO) and San Jose (SJC). If you have any logistical questions, just ask!
Tickets!
Space is very limited. Reserve your space today. Registration closes Friday, October 4th at midnight.
Early Birds use this code to get your discount: EARLYBIRDGOLD. (Expires Saturday, September 14, 2019.)
To pay for your ticket, use the scheduling link below to reserve your spot for 6pm on Friday, October 11, 10am Saturday and 10am Sunday.
In honor of inclusivity, there is a scholarship fund for a local activist/volunteer with BAWAR (Bay Area Women Against Rape). If you feel called and are able, please consider donating an additional amount to help defray the cost of her ticket.
What People Say About My Retreats
I didn't know what to expect from the Mercy at Mercey Retreat but I knew I had to go. Life had exhausted me and I was in desperate need of a refresh. Anné Klint is an amazing woman who listens patiently to how others describe the 'balance' in their lives. She's able to connect with them quickly on a personal level and ask targeted questions that help people reflect, embrace strengths and evaluate struggles.
The individuals I met at the retreat were so supportive and considerate of others opinions and ideas. The retreat content challenged me to work on my better self and certainly provided the refresh I needed to get through the rest of the year and identify what I'm looking for in 2019! I'm so grateful I had the opportunity to attend and meet Anné!
~ KC
---
My experience at the Flourish retreat was incredible. Anne is an amazing facilitator, guiding all of us with her gentle spirit and direct nature. What I learned here has shaped me into a better me and I am very grateful. Thanks for helping on my journey, looking forward to the next time. 
– Krina